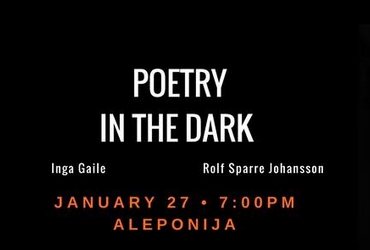 On Friday, the 27th of January, the Danish Cultural Institute in Estonia, Latvia and Lithuania together with the bar Aleponija, would like to invite you to the event "Poetry in the Dark" where you will be able to meet the two poets; Danish Rolf Sparre Johansson and Latvian Inga Gaile.
 The event takes place on 27 January and will focus on the role of poetry in today's society, and which role the society plays for poetry. How does poetry survive in our 21st century modern, digitalized society? And how does the poet?
At the event you can hear the two poets Inga Gailes and Rolf Sparre Johansson's take on these dilemmas.
The evening will begin at 7 PM where the Danish poet Rolf Sparre Johansson will initiate the program by reading part of his latest publication "Begravelse" (Funeral) that consists of one long poem. The reading will be performed in Danish but will be interpreted into Latvian.
Thereafter, the renowned Latvian poet, Inga Gaile, will enrich us with a selection of her poems – both old and brand new. This part will mainly be in Latvian, but there will be bits of English.
After the poetry readings, the two poets will engage in a cross-cultural conversation about poetry and society today. The conversation will be followed by a Q&A-session where the audience will have a chance to engage in the discussion and direct questions at the two participants.
The event is free.